Greatest Hits by Original Artist
(DVD, 2008-9)
---


A retrospective dvd ( produced in a bilingual edition to introduce my work in Spain) which included four experimental documentaries, each one focusing on different aspects of my work: Identity, Ritual and Death, Antitainment and The Media.The process of production of these documentaries was unusual in that each film was scripted and included footage from performances, which were then projected in performative conferences. This live footage was then edited together with the original footage and images relating to the work under discussion. The DVD also included a selection of my short films. I gave the DVD the ironic title of "Greatest Hits by Original Artist" as a homage to the compilation LPs I grew up with in the 1970´s which were annual retrospectives of that year's pop chart hits- sometimes performed by the original artists sometimes by others as cover versions.
Identity
This film explores gender issues and my different performance alter egoes through the years including Jackie Derrida a deconstructionist drag ex drag queen, le comptessa a shadowy figure with a dark aristocratic past to the flamenco singer El Tornado of whom I am the latest descendant.
Showings
Conference "Cuerpos/sexualidades hereticas" Palau de les Arts, Altea Nov 5/11/09
DIY shorts selection, Muestra Marrana Hangar, Barcelona, 15/7/11
Best of the Muestra Marrana, Zinegoak Bilborock, Bilbao 7/2/13
Ritual and Death
The film includes clips from various performances and actions around the themes of ritual, ceremonies and death and includes footage of the "Ritual and Death" performative lecture at Cairnholy where these clips were projected on the standing stones.
Rituals and ceremonies exist in all cultures because they provide for an essential human need for symbolic representations of processes of change: birth, death, changing of the seasons, etc... They also represent changes in ourselves and mark transformative moments in our lives, affecting how we see ourselves and others, bringing communities together in celebrations which mark their identity.
They provide for an atavistic human need to sublimate our fears, and desires and I believe they are important because they keep us in touch with our basic human nature. In a society where we have become alienated from the natural environment it is important to create new rituals which keep us in touch with that nature.
In our secular societies, state and religious powers continue to carry out rituals which have, for the main part, lost their significance and which serve only to uphold their power. The pagan significance of these ceremonies and rituals (if they ever had one) has been lost.
In my practise I subvert these rituals and ceremonies, inviting participants to help in the creation of queer rituals which have a contemporary relevance. Dressing up, imagining ourselves in other bodies, carrying out other roles in society - these are ways to challenge the roles imposed upon us by a society which demands that, as adults, we should carry out our functions unquestioningly fulfilling roles pre-determined by our sex, social class or sexuality.
Rituals have the power to change the collective subconscious, and can help to construct a community based on equality.
Un dvd retrospectiva (producido en edición bilingüe para presentar mi trabajo en España), que incluye cuatro documentales experimentales, cada uno centrado en un aspecto distinto: Identidad, El Rito y la Muerte, Antitainment y Los Medios (de Comunicación). El proceso de producción de estos documentales era inusual, ya que se hizo un guión por cada película que incluía material de archivo, que luego se proyectaron en unas conferencias performativas. Después, las grabaciones en directo fueron montados junto con el material de archivo e imágenes relacionadas con el trabajo bajo discusión. El DVD también incluye una selección de mis cortometrajes. Le di al DVD el título irónico "Grandes Exitos por Artista Original", en homenaje a los discos recopilatorios de los años 70 con que crecí, discos que eran retrospectivas de los grandes éxitos del año, a veces realizada por los artistas originales a veces versionados por otros.
Identidad
Este cortometraje explora cuestiones de género y mis distintos alter egos performaticos a través de los años, incluyendo Jackie Derrida un drag ex drag queen deconstruccionista, le comptessa una figura enigmática con un pasado aristocrático oscuro hasta el cantaor El Tornado de quien soy el último descendiente..
Esta película se ha mostrado como parte de una conferencia peformativa en:
Conferencia "Cuerpos/sexualidades hereticas" Palau de les Arts, Altea Nov 5/11/09
Selección cortos DIY, Muestra Marrana Hangar, Barcelona, 15/7/11
Best of the Muestra Marrana, Zinegoak Bilborock, Bilbao 7/2/13
El Rito y la Muerte
La película incluye clips de diversas actuaciones y acciones relacionadas con rituales, ceremonias y la muerte, e incluye imágenes de la conferencia performativa "Ritual and Death" en Cairnholy, donde estos clips fueron proyectados sobre las piedras del menhir.
Los ritos existen en todas las culturas porque cumplen una necesidad humana esencial para representar los procesos de cambio en la vida: la muerte, el nacimiento, los cambios de estaciones, etc..
Representan cambios en nuestras vidas y marcan momentos transformadores, afectando como vemos a los demás y a nosotros mismos, reuniendo las comunidades en celebraciones que marcan su identidad.
Los rituales contribuyen a producir comunidades transitorias donde podemos experimentar nuevas maneras de relacionarnos y nos dan la oportunidad de imaginar otros futuros posibles.
Cumplen una humana necesidad atavística que es sublimar nuestras inquietudes y deseos. Por esta razón los ritos resultan tan importantes; a través de ellos nos ponemos en contacto con lo fundamental de la naturaleza humana. Además, en una sociedad donde estamos cada vez mas enajenados de la naturaleza, resulta muy importante que creemos nuevos ritos que nos pongan en contacto con ella.
En nuestras sociedades laicos, el estado y el poder religioso siguen celebrando rituales que, en la mayoría de los casos, han perdido su significado y sirven solo para reforzar su poder. El significado original (y pagano) de estos rituales - si es que alguna vez que lo tenían - se ha perdido.
En mi practica subvierto estos ritos y ceremonias, invitando a los participantes a compartir en la creación de rituales queers con una relevancia contemporánea. Porque disfrazarnos, imaginarnos en otros cuerpos, en otros roles sociales son maneras de cuestionar los roles impuestos por una sociedad que quiere controlarnos y demanda que una vez pasada la etapa de juventud asumimos un único papel en la sociedad, determinado por nuestro sexo, clase social o sexualidad.
Los rituales tienen el poder de cambiar el inconsciente colectivo y ayudan a construir una comunidad basado en la igualdad de sus miembros.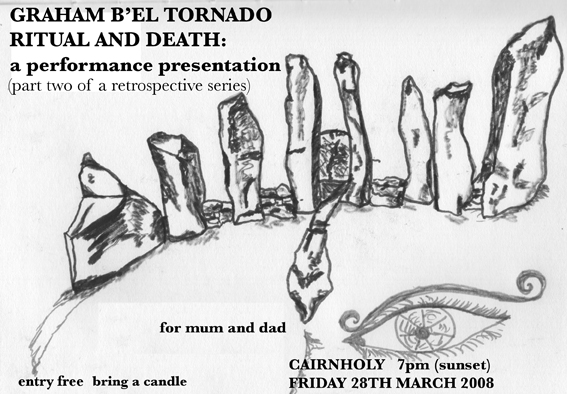 Presentation: Ritual and Death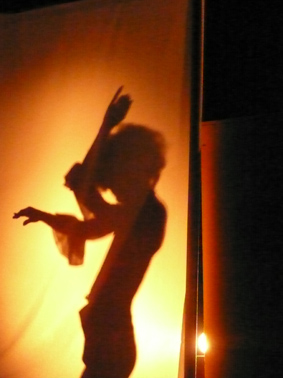 Presentation: Antitainment Festival Valetudo
Antitainment(Festival Valetudo) Festival Valetudo, Valencia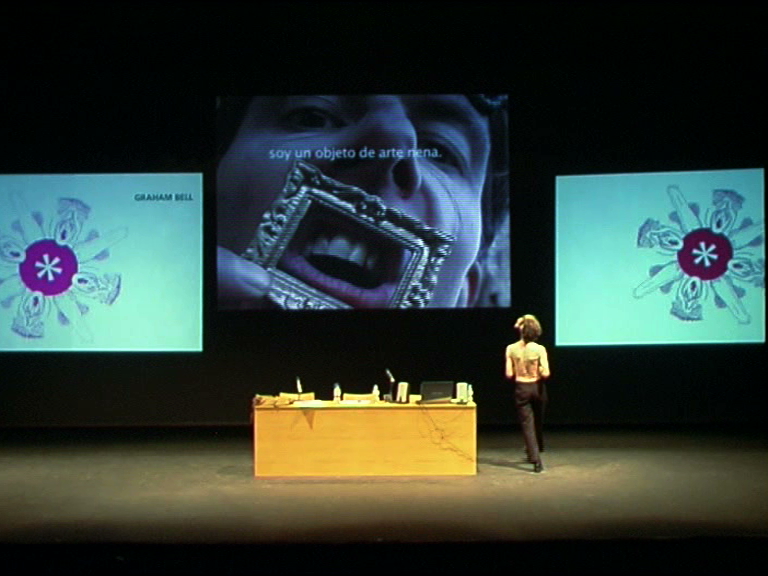 Presentation: Identity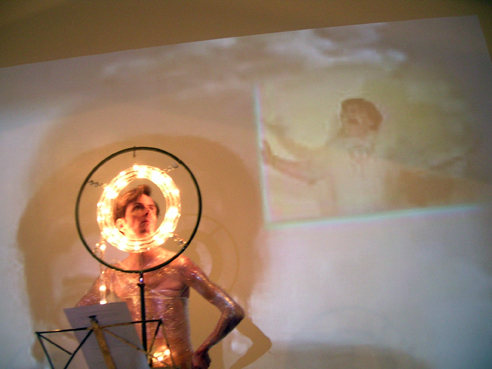 Presentation:The Media Sala Parpallo,Valencia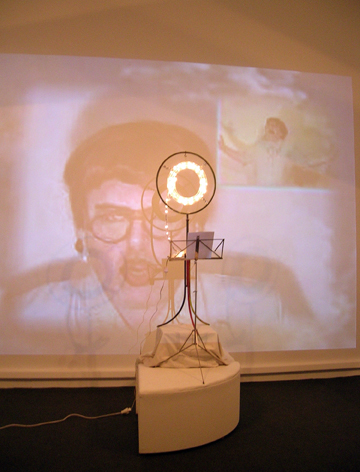 The Media(Sala Parpallo) Sala Parpallo, Valencia