Performative Lectures (selected)


---
Living Art, Participatory Rituals, Queer Ecology in the Age of Ecocide
Part of the Presentes Densos cycle, IVAM (Valencian Museum of Modern Art, 2022)
An ornithological presentation of my performative alter ego, the transgender shaman Geyserbird, my ecosex collaborations and the long term projects Ecogender and the Histeria Natural cycle of rituals, ceremonies and installations. On this occasion it included the participatory ritual "How to Heal the Albufera Natural Park". A video of the conference (in spanish) can be seen on the website of the museum

---
Antitainment
Presented at the Symposium: Power, Subcultures & Queer Stages organised by CUNTemporary Arts at Queen Mary University, London (2017).
A lecture on the histeria of La Erreria (House of Bent) including an overview of our exhibitions, radical drag workshops, the participatory Coronation ceremonies, surreal fashion shows, short films and publications.
---
My Sexual Hysteria

Zinegoak: LGTB Film and Arts Festival, Bilbao (2013)
Another in the Hysterical cycle of performance lectures, this time a personal history tracing representations of sex and sexuality in my work from early days as a drag ex- drag queen exploring homosexual fantasies of promiscuous sex with "real" men, through the transgender representation of desire, bisexuality,my collaborations with sex workers and my latest experiments in "ecosexuality" the term coined by Annie Sprinkle and Beth Stephens to talk about the sensuality of the elements and the need to seek a direct physical contact with them and with the Earth.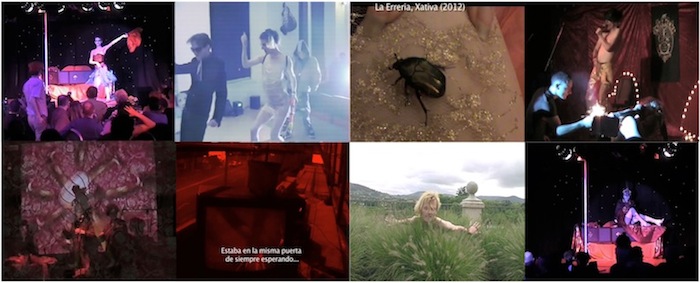 ---
FUERA!
Campceptualisms of the South Tropicamp, performative politics and subalternity conference organised by Ppol Preciado in the Museum of Contemporary Arts (MACBA), Barcelona (2012)
A presentation using popular spanish folk music (coplas/ rumba catalana) to talk about queer outsider Spanish artists Ocaña and Rampova Cabaret and the precarious nature of performance artists within the art establishment and the Academy. The anarchic presentation and content mirrored the context since I was "unofficially" invited at the last minute by conference organiser Beatriz Preciado and had to prepare the talk in a matter of hours.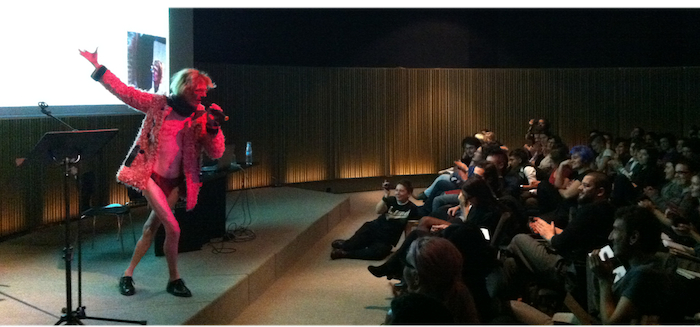 ---
Identity
Heretical Sexualities and Bodies in Artistic Practises conference, Palau de Arte, Altea in 2011
A live projection of my film "Identity", a short about gender and sexuality in performance during which I carried out a series of actions relating to the topics under discussion. In the introduction I spoke about heretical bodies in different contexts, eg skinny, effeminate queens on the gay scene or bisexuals in queer spaces.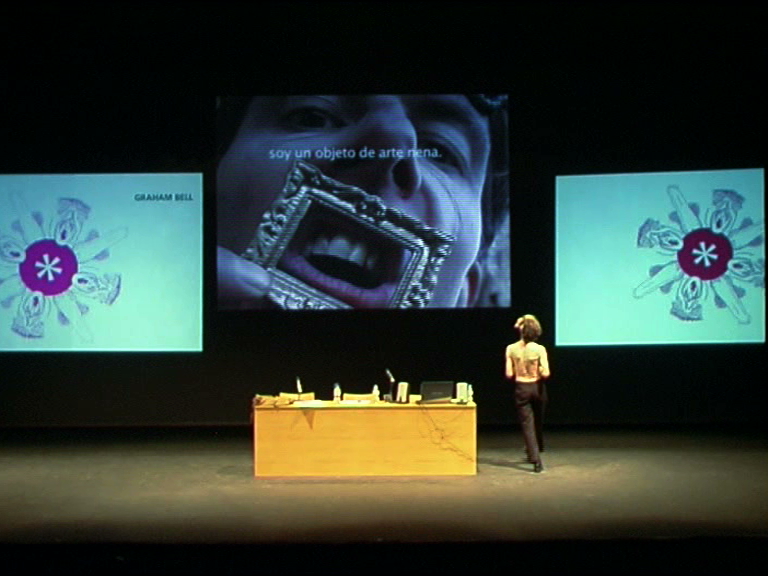 Conferencias Performativas (selección)


---
Living art, rituales participativos, ecología queer frente al ecocidio
Parte del ciclo Presentes Densos, IVAM (2022)
Una presentación ornitológica de mi alter ego performativo de chaman travesti Geyserbird, y proyectos recientes como Ecogénero, el ciclo Histeria Natural y mis colaboraciones ecosex. En esta ocasión incluyó el ritual participativo "Cómo Sanar el Parque Natural de la Albufera". Se puede ver un video de la conferencia en la pagina web del IVAM

---
Antitrenimiento
En el simposio Power, Subcultures & Queer Stagesorganizado por CUNTemporary Arts en la Queen Mary University de Londres ofrecimos una visión general de los proyectos de la Erreria (House of Bent) incluyendo nuestras exposiciones, talleres de drag radical, las ceremonias de coronación participativas, desfiles de moda surrealistas, cortometrajes y publicaciones.
---
Mi Histeria Sexual
Zinegoak: Festival de cine y arte LGTB, Bilbao (2013)
Parte del ciclo de conferencias performaticas " histéricas", esta vez una histeria personal trazando representaciones del sexo y la sexualidad en mi obra desde mis principios como drag-ex drag queen explorando fantasías homosexuales de sexo promiscuo con "hombres de verdad", pasando por la representación transgenera del deseo, la bisexualidad, mis colaboraciones con trabajadores del sexo y mis últimos experimentos en la "ecosexualidad" termino acuñado por Annie Sprinkle y Beth Stephens para hablar de la sensualidad de los elementos naturales y la necesidad de buscar un contacto físico con ellos y con la tierra.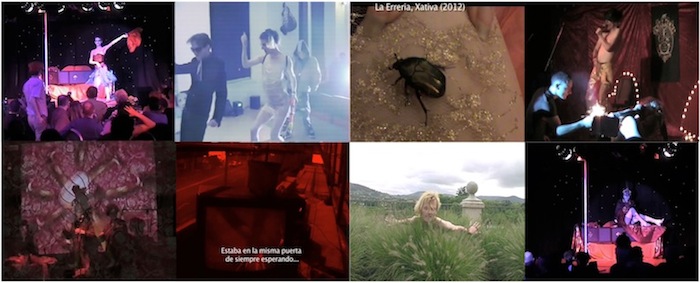 Zinegoak: LGTB Festival de Cine, Bilbao 7/2/2013

---
FUERA!
Campceptualismos del sur Tropicamp, políticas performativas y subalternidad conferencia organizado por Pol Preciado, MACBA, Barcelona Nov. 2012
Una presentación de la obra de artistas outsiders queers como Ocaña and Rampova Cabaret utilizando las letras de canciones de la música folclórica española para hablar de la precariedad de la performance dentro de las Instituciónes. La naturaleza anárquica de la presentación y de sus contenidos era debido al contexto- estaba invitado de manera no- oficial al ultimo momento por la organizadora de las conferencias Beatriz Preciado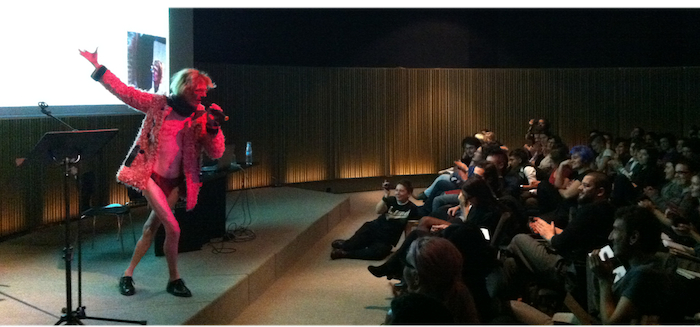 ---
Identidad
Congreso Internacional Cuerpos/Sexualidades Heréticas y Prácticas Artísticas, Palau de Altea
Una proyección en directo de mi cortometraje sobre el género y la sexualidad en mi práctica "Identidad", durante el cual realicé una serie de acciones relacionadas con los temas en discusión. En la introducción hablé sobre los cuerpos heréticos en diferentes contextos, por ejemplo, las maricas afeminadas y flacas en el ambiente gay o los bisexuales en los espacios cuirs.