Ecosex collaborations (2009-11)

---
Definition of Ecosex:
1. someone who finds nature sexy
2. a new sexual identity
3. someone who takes the Earth as lover
4. a term used in contact adverts
Beth Stephens and Annie Sprinkle
Ecosex is a philosophy which is in a stage of infancy but which unites the fields of feminism, sexuality and ecology to make us aware of our bodies as physical entities in the here and NOW, in a world full of poisons, on the brink, a world which we are still in time to save. Stephens and Sprinkle exploit the modern obsession with sex to draw attention to these problems.
Ecosexuality replaces the vision of the earth as a Mother who cares for us, with that of a lover, who needs our love and care to survive. It goes beyond the gender binaries, encouraging a sensual response to the natural elements.
I have collaborated with Beth and Annie on various of their ecosexual weddings, including The Blue Wedding to the Sea (Venice Bienal, 2009), The Silver Wedding to the Rocks (CCCB, Barcelona, 2011) and acting as Anti Pope in their Black Wedding to the Coal (Gijon, 2011). In these collaborative performances they marry each other and a natural element to draw attention to how we are exploiting it.
I also took part in their wonderful ecosex workshop on a rainy day in Gijon and got a bit carried away as you can see in this video!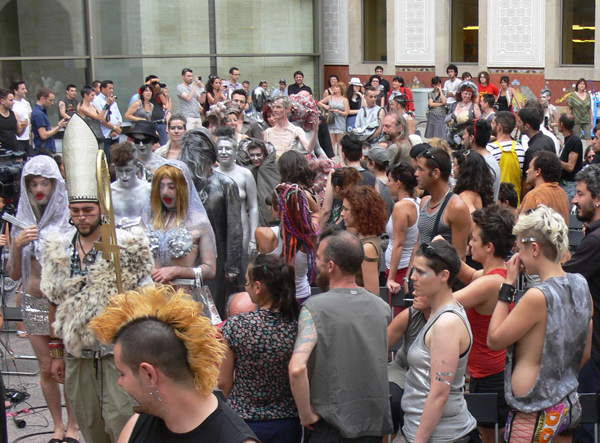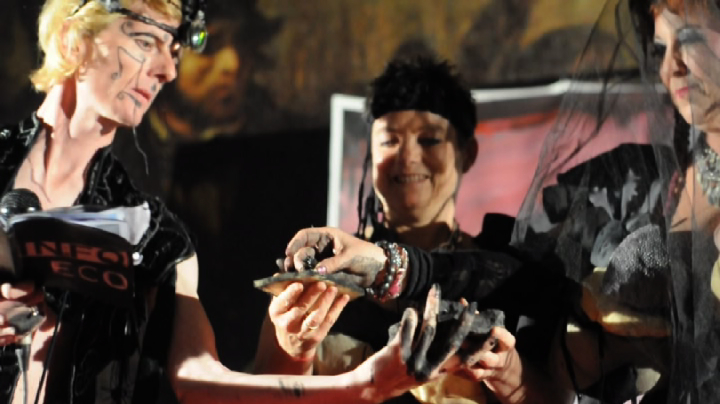 Definición de Ecosex:
1. una persona que encuentra sexual a la naturaleza
2. una nueva identidad sexual
3. una persona que toma como amante a la Tierra
4. un termino utilizado en anuncios para ligar
Beth Stephens y Annie Sprinkle.
Ecosex es una filosofía emergente que reune los campos del feminismo, sexualidad y ecología para hacernos conscientes de nuestros cuerpos como materia física que existe en el aquí y ahora, en un mundo tóxico, a borde del desastre, pero que si actuamos a tiempo todavía es posible salvar. Sprinkle y Stephens explotan la obsesión moderna con el sexo para llamar la atención sobre estos cuestiones.
La Ecosexualidad reemplaza la visión de la Madre Tierra cuidadora para otra- la del Tierra-Amante, un amante que necesita cariño y que cuidamos de el/la. Su vision va mas alla del sistema binario del género, fomentando una relación sensual con los elementos: tierra, fuego, aire y agua.
Sus bodas ecosexuales son colaboraciones con artistas- ellas se casan con un elemento natural para denunciar la explotación de la naturaleza y para reivindicar los derechos de la comunidad LGTB a casarse. He hecho varios colaboraciones con Beth y Annie incluyendo su Blue Wedding to the Sea (Bienal de Venecia, 2009), Silver Wedding to the Rocks (CCCB, Barcelona, 2011) y he oficiado en su Boda Negra con el Carbon (Gijon) como "Anti" Papa.
También participé en su taller de ecosex y el video que ha salido ha sido todo un exito en las redes sociales!