How to Heal... (2012- )

---


A participative action/ritual led by my alter ego Geyserbird. How to Heal... is a conceptual ritual, based on the idea that our leaders, heads of banks and multinationals, etc. have lost awareness of themselves as organic beings and imagines that within their bodies there lies a scared and defenseless animal in danger of becoming extinct.
My role in this ritual connects to the tradition of the two spirited shamans who existed in many "primitive" cultures - transgender people who were seen as having a spiritual gift, perhaps because they combined elements of both masculinity and femininity. The role of these queer-tranny-shamans is crucial in contemporary society because these figures represent the end of the patriarchal era of monotheistic religions and of masculine domination and the breakdown of power structures which have become obsolete.
The ritual has been carried out on over 30 occasions and changes each time it is carried out, depending on the context and the energy of the people who take part. It has been adapted to a wide variety of contexts in order to heal various institutions, public spaces and, more recently, the war.

How to Heal... from Graham Bell Tornado on Vimeo.
How to Heal...the World Bank
As part of a workshop with students from KTM Art School in Noorderpoort (Estación del Norte, Valencia, 9/2/23)
In collaboration with the LGTB collective LAMBDA (Plaza San Sebastian, Valencia 2/7/22)
AVAN (Vilafranca del Cid, 2/10/21)
Centro Cultural Border (Mexico City, 13/12/19)
Museari Queer Art (Las Naves, Valencia, 17/7/19)
As part of Acciones Extraordinarias (La Vaguada, Madrid, 21/9/18)
TransMaking Spring Academy (La Nau, Valencia, 7/3/18)
Festival Art Sur (La Victoria, 3/6/17) as part of the Cabaritual
Festival for Equality (Valencia University, 30/3/17)
C.C.C.Octubre (Octubre Centre for Contemporary Culture, Valencia, 17/12/16)
Lo Pati Centre de Arte, as part of the Bouesia festival (Amposta, 6/11/16)
European Bisexual Conference (Amsterdam, 30/7/16)
Amongst olive trees (La Victoria, Cordoba, Festival Art Sur, 5/6/16)
Rambleta Arts Centre (Valencia, as part of The Ritual Box exhibition, 28/5/16)
Faculty of Languages, Valencia University (as part of the Conference on Multidisciplinary Education for Gender Equality, 25/4/16)
TEM Theatre as part of Transformer (Valencia, 13/12/15)
Palau de la Vila (Ontinyent, 13/12/15)
The Poetry Club (Glasgow, 29/10/15) - part of the Cabaritual
Neomudejar de Atocha (Madrid, 17/5/15)- part of the Cabaritual
Alternative Fair (Valencia, in colaboration with Amnesty International, 6/6/14)
Valencia School Meet (in colaboration with Amnesty International, 31/5/14)
Scottish Parliament (Edinburgh, 20/7/13)
Raspalloc Festival of Performance and Experimental Music (Ontinyent, 21/9/13)
Space Station Sixty Five Gallery (London, 12/7/13)
M.N.C.A.R.S.(Reina Sofia National Centre of Contemporary Arts, Madrid, 25/5/13)
Banco de Valencia, Bank (Valencia, 21/12/12)
Solar Corona (Valencia, 21/6/12)
How to Heal... the Public Education System
Faculty of Arts, Polytechnic University of Valencia (21/6/13)

How to Heal... the Velluters neighbourhood
Mercado Central, Valencia (9/11/13) as part of the Ciutat Vella Festival
How to Heal...Valencian Art
Kessler Battaglia Gallery, Valencia (1/2/14) as part of the CabaRitual
How to Heal...the seafront neighbourhoods
As part of the Cabañal Intim festival. Teatro Musical, Valencia (7/5/22)
How to Heal...the World War
Fine Arts Dept, Polytechnic University of Valencia (29/4/22)
Casa de la Cultura, Denia (24/3/22)
How to Heal...the Albufera Naure Reserve
IVAM, Valencian Modern Art Institute (4/3/22)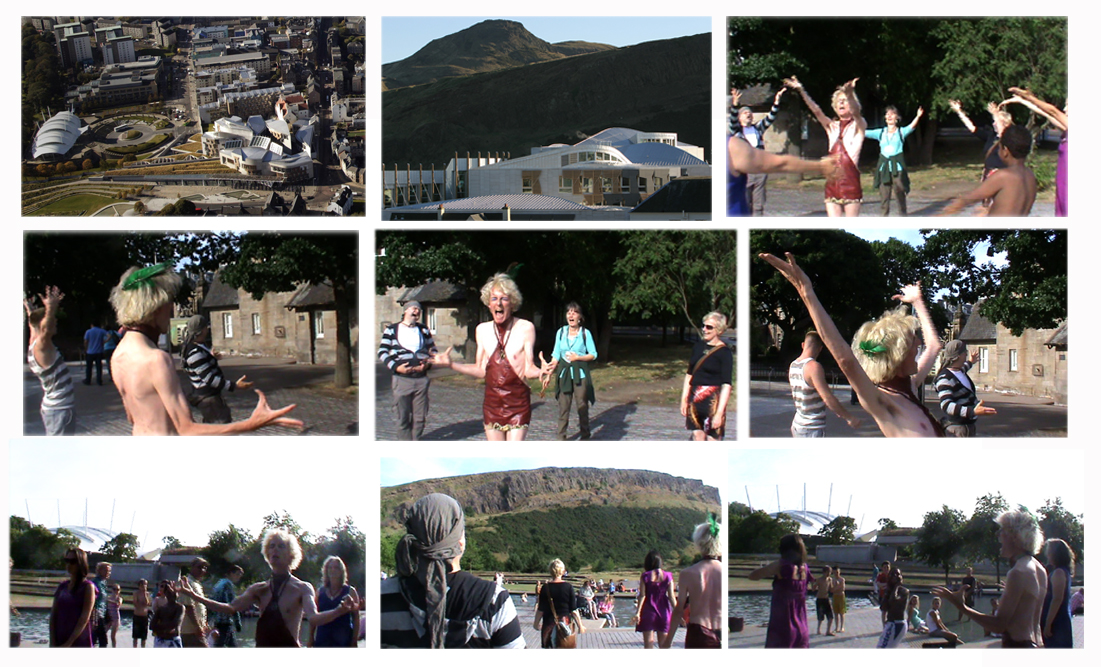 Como Sanar... es un ritual/acción participativo guiado por mi alter ego Geyserbird. Mi papel en este ritual sigue en la tradición de los chamanes dos espíritus quienes existieron en muchas culturas- personas transgéneros dotadas con un don espiritual, quizás por combinar elementos masculinos y femeninos en su personalidad. El papel del chamán-travesti-transmaricabollo es fundamental en la sociedad actual, porque representa el fin del dominio de lo masculino y del monoteismo y la quiebra de las estructuras obsoletas del poder.
Como Sanar... es un ritual conceptual, basado en la idea de que nuestros líderes y jefes de multinacionales han perdido conciencia de que ellos, como todos, son seres orgánicos y que  dentro llevan un animal indefenso, temoroso y en peligro de extinción.
El ritual ha sido celebrado en mas de 30 ocasiones y cambia cada vez, según el contexto y la energía del público que participa. Se ha realizado en gran variedad de lugares para sanar distintas instituciones, espacios públicos y, mas recientemente, la guerra.

How to Heal... from Graham Bell Tornado on Vimeo.
Como Sanar... el Banco Mundial
Como parte de un taller con alumnas de la Escuela de Arte KTM de Noorderpoort (Estación del Norte, Valencia, 9/2/23)
En colaboración con el colectivo LAMBDA (Plaza San Sebastian, Valencia 2/7/22)
AVAN (Vilafranca del Cid, 2/10/21)
Centro Cultural Border (Ciudad de México, 13/12/19)
Museari Queer Art (Las Naves, Valencia, 17/7/19)
Como parte de Acciones Extraordinarias (La Vaguada, Madrid, 21/9/18)
TransMaking Spring Academy (La Nau, Valencia, 7/3/18)
Centro Civico (La Victoria, Cordoba, Festival Art Sur, 3/6/17) como parte del CabaRitual
Festival per la Igualtat (Universidad de Valencia, 30/3/17)
C.C.C.Octubre (Octubre Centro de Cultura Contemporanéa, Valencia, 17/12/16)
El Pati, como parte del festival Bouesia (Amposta, 6/11/16)
Conferencia Europea Bisexual (Amsterdam, 30/7/16)
Entre olivos (La Victoria, Cordoba, Festival Art Sur, 5/6/16)
La Rambleta, como parte de la exposición The Ritual Box (Valencia, 28/5/16)
Facultad de Filologia, Universidad de Valencia (como parte de la Jornada por la Educación multidisciplinar por la igualdad de género, 25/4/16)
TEM Theatre como parte del proyecto Transformer (Valencia, 13/12/15)
Palau de la Vila (Ontinyent, 13/12/15)
The Poetry Club (Glasgow, 29/10/15) como parte del CabaRitual
Neomudejar de Atocha (Madrid, 17/5/15) como parte del CabaRitual
Feria Alternativa (en colaboración con Amnistia Internacional (en feria alternativa Valencia 6/6/14)
Trobades d´Escoles en Valencià (en colaboración con Amnistia Internacional ,31/5/14)
Parlamento Escocés (Edimburgo, 20/7/13)
Raspalloc Festival de Performance y musica experimental (Ontinyent, 21/9/13)
Space Station Sixty Five Gallery (Londres, 12/7/13)
MNCARS (Museo Nacional de Arte Contemporáneo Reina Sofia, Madrid, 25/5/13)
Banco de Valencia, Calle Barcas (Valencia, 21/12/12)
Solar Corona (Valencia, 21/06/12)
Como Sanar... la Educación Publica
Universidad Politecnica de Valencia, Facultad de Bellas Artes (21/6/13)
Como Sanar... el Barrio de Velluters
Mercado Central, Valencia (9/11/13) como parte del Festival Ciutat Vella Oberta
Como Sanar... el Arte Valenciano
Galería Kessler Battaglia, Valencia (1/2/14) como parte del CabaRitual
Como Sanar los Barrios Maritimos
como parte del festival Cabañal Intim. Teatro Musical, Valencia (7/5/22)
Como Sanar... la Albufera Reserva Natural
IVAM (Valencia, 4/3/22)
Como Sanar... la Guerra Mundial
Facultad de Bellas Artes, UPV, Valencia (24/4/22)
Casa de la Cultura, Denia (24/3/22)