The Catalogue: a Living Artist's Book
(2014)
---
In January/February 2014 my solo exhibition The Catalogue: a Living Artist's Book
took place in the Galeria Battaglia Kessler in Valencia (Spain). The catalogue of the exhibition was published and presented as part of the performance festival FARTS in Valencia.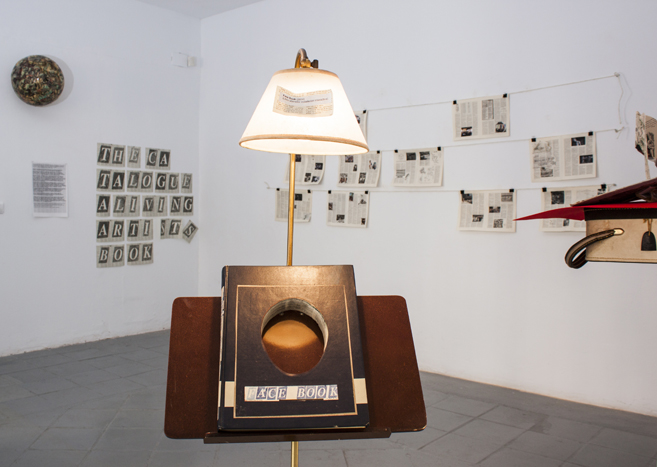 If the Exhibition is the Holy Grail in the art world, the Catalogue is its Koran. However embedded in social context the practice, if the artist seeks legitimization from the Art World, both the exhibition circuit and art press are obligatory. The market demands it.
The Catalogue is a collection of works - video, performance, music and altered books - based on an exploration of the possibilities of text.
It is a live artist's book, embodying the deconstructionist philosophy that logos once inscribed in text changes its significance. Through the practice of live art these texts gain other meanings.
This project is a development of The Recyclopedia series of artist books and actions. A product of the information age, The Recyclopedia uses obsolete volumes to construct another kind of archive: a politics of aesthetics reflecting the uncertainties of an era in which utopian ideals seem to have been debunked and "Man" has realised that he forms part of a complex web of interrelated organisms in an equilibrium that is growing increasingly more and more fragile.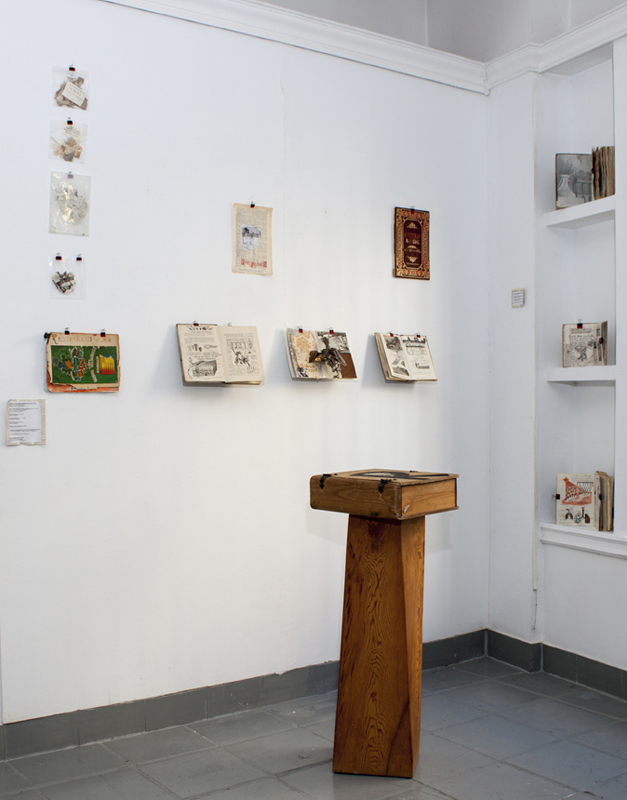 The Catalogue communicates in a poetic way, an ethical and anti-establishment position which is opposed to the systems of oppression, domination and control in our society, drawing parallels between biological and political organisation.
The games I play - with gender, politics, philosophy and ecology - are part of my biography, bleeding between the fine divisions of the art world where the Work often seems to exist outside of time. The context - historical, physical and symbolic - is of the utmost importance, since I believe in art´s power to transform society.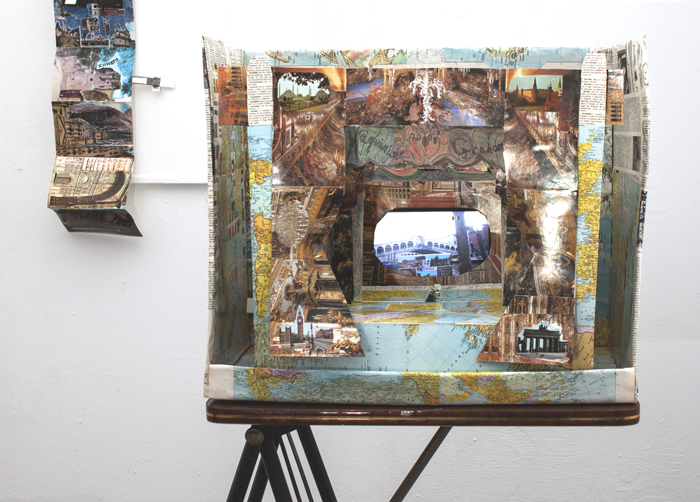 When political art enters the gallery it occupies a very uncomfortable space. The presence, shared moments and the reaction to the context are important in overcoming this contradiction. For this reason I was present in the gallery for the duration of the exhibition sharing experiences, collaborating and updating The Catalogue with visitors. The exhibition was in constant evolution and in this ongoing process I inscribed myself into "art hysteria".
The exhibition was complemented by a series of events: - an opening night performance, a video presentation illustrating the concepts of live art and a final collective happening the CabaRitual.
En Enero/Febrero 2014 hice una exposición monográfica The Catalogue: a Living Artist's Book en la Galería Battaglia Kessler en Valencia. El catálogo de la exposición fue publicado y presentado como parte del festival de performance FARTS en Valencia.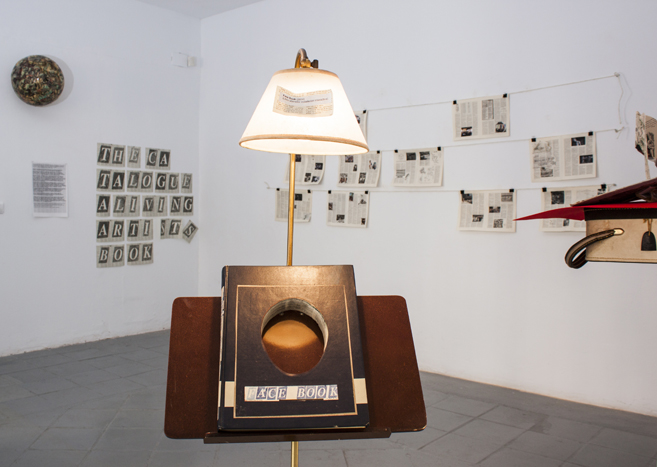 Si la exposición es el Santo Grial en el mundo del arte, el catálogo es su Corán. A pesar de estar involucrado en el contexto social, si el artista busca la legitimación, tanto la exposición como la prensa del arte son obligatorios: el mercado lo exige.
The Catalogue es una colección de obras -video, performance, música y libros alterados- basada en una exploración queer y ecofeminista de las posibilidades del texto. Es el libro de un live artist*, que incorpora la filosofía deconstruccionista en la que el logos cambia su significado una vez inscrito en el texto. A través de la práctica del live art los textos adquieren otros significados.
Este proyecto es el desarrollo de La Reciclopedia, una serie de libros de artista y acciones. Un producto de la época informática, La Reciclopedia utiliza volúmenes obsoletos para construir otro tipo de archivo: una política de la estética que refleja las inquietudes de una época donde parece que los ideales utópicos se hayan desmoronado y el hombre se da cuenta de que forma parte de una compleja red de organismos interrelacionados en un equilibrio cada vez más frágil.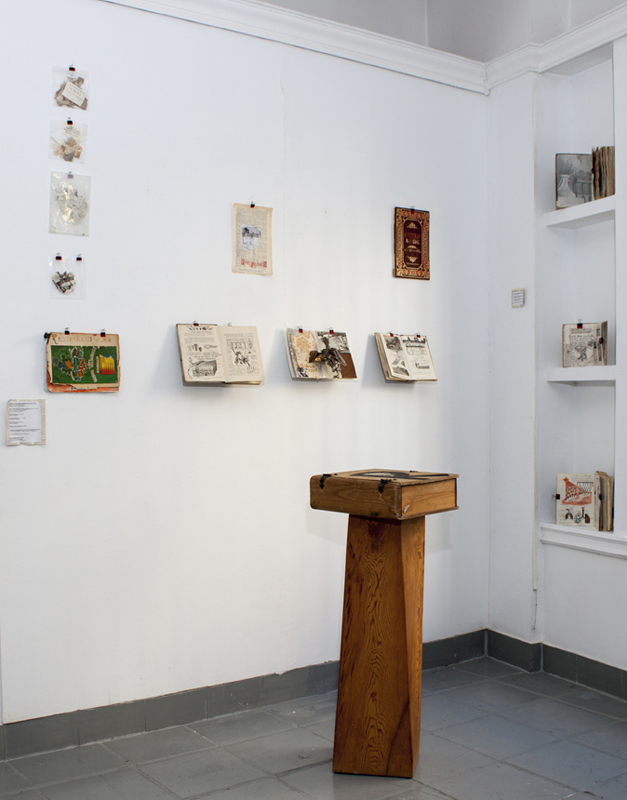 The Catalogue comunica, de manera poética, una posición ética que se opone a los sistemas de opresión, dominación y control en nuestra sociedad y relaciona la organización biológica con la política.
Los juegos que hago -con el género, la política, la filosofía y la ecología- forman parte de mi biografía, infiltrándose entre las sutiles divisiones del mundo del arte donde parece a menudo que la obra exista fuera del tiempo. El contexto -histórico, físico y simbólico- para mí es de máxima importancia, porque creo en el poder del arte para transformar la sociedad.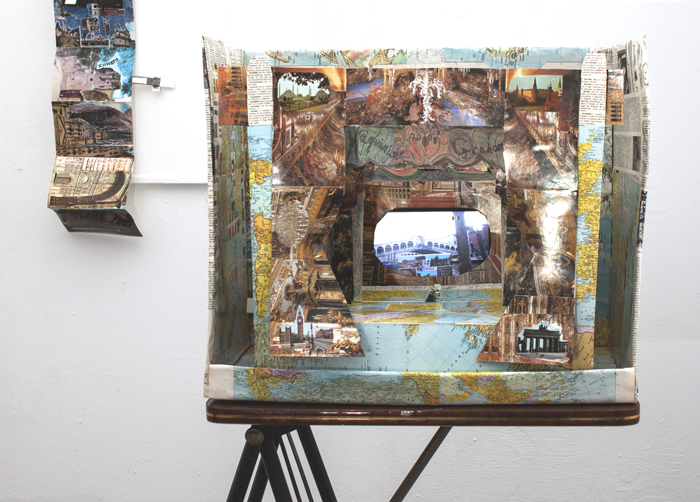 Cuando el arte politico entra en la galería ocupa un espacio muy incómodo. La presencia, los momentos compartidos y la reacción al contexto son importantes para combatir esta contradicción. Por eso estaba presente en la galería durante la exposición para compartir experiencias, colaborar y actualizar The Catalogue con los visitantes. La exposición estaba viva y en cambio constante y en este proceso continuo, me inscribí dentro de la histeria del arte.
La exposición se complementó con una serie de eventos: performance para la inauguración, presentación de vídeos ilustrando los conceptos del Live Art y un apoteósico ritual cabaretero colectivo para el acto final.